I just ordered some boots which I hope will be perfect for our travels to Russia.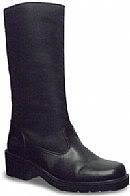 Yesterday, while shopping with my mom and sister, I tried these on, but they were too big, and the store did not have my size. They look better on than they do in this picture. I was happy because they looked like regular shoes and not puffy moon boots! They are waterproof, and they have a snuggy soft faux fur lining, so I think they'll be perfect for the snow. After searching online, I found them at
Shoe Show
, and with shipping, they were only $27! Super Score!